Prescott Dormitory
Political information
State
Government
Owners

Prescott Family[1] (owners)

Cliques
Historical information
Founder
Founded

1998[1]

Additional information
Locations

The Prescott Dormitory is a federal housing building established for students living on-campus at Blackwell Academy.
History
Ownership
Like the whole of Blackwell Academy, the Prescott Dormitory is owned and funded by the Prescott Family. The dormitory was donated to the academy by Sean Prescott and the Prescott Foundation in 1998.[note 1]
Layout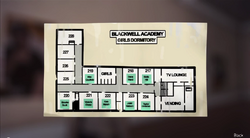 The dormitory is situated to the left of the Blackwell Academy's primary building. is the Prescott Dormitory, the lodging for the student body. Before entering either the girls or boys dormitory, there is television lounge situated on the left just as an individual enters the building and a vending machine area on the right.[1]
The Prescott Dormitory appears segregated based on gender. There is a girls dormitory and a boys dormitory. Max Caulfield and other female students of Blackwell are situated in personal rooms down a long corridor in odd numbered rooms. There appear to be a total of two hundred and twenty eight rooms in the girls dormitory judging from the navigational map situated in the girls dorm.[1]
Rooms
The following is a list of known rooms in the Prescott Dormitory.
| | |
| --- | --- |
| Girls Dormitory | Boys Dormitory |
Events of Life Is Strange
Gallery
Screenshots
Dormitory Grounds
Dormitory Interior
Concept Art
Notes
References
Ad blocker interference detected!
Wikia is a free-to-use site that makes money from advertising. We have a modified experience for viewers using ad blockers

Wikia is not accessible if you've made further modifications. Remove the custom ad blocker rule(s) and the page will load as expected.