"This is the story of Antoine, the Founder of Memorize and the creator of the Sensation Engine (Sensen)."
—Tumblr.com[1]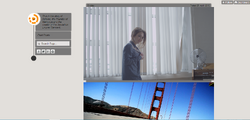 Memorize: The Beginning is the name of Tumbleblog a part of the Alternate Reality Game designed to expand on the backstory of Dontnod Entertainment's Remember Me.[2]
Overview
Acting as a sort of precursor to Antoine's Journal, Memorize: The Beginning details the beginning of Antoine Cartier-Wells' life in America and San Francisco shortly after leaving France. The tumbleblog uses real life events that occurred in April to May 2013 or earlier as a jumping point for Antoine's thoughts as they pertain to the development of Memorize and the Sensation Engine.
It also elaborates somewhat on the beginning of his relationship with Molly and her interest in the Occupy Wall Street protests.
List of Entries
Molly
Research
Memorize
The Social Revolution
Gallery
Sensen Concepts
Sensen Products
Photography
Quotes
External Links
References
Ad blocker interference detected!
Wikia is a free-to-use site that makes money from advertising. We have a modified experience for viewers using ad blockers

Wikia is not accessible if you've made further modifications. Remove the custom ad blocker rule(s) and the page will load as expected.