"If anybody else looked at this, what would they think?"
—Max Caulfield[1]
"Max's Journal" is a personal account of Max Caulfield's thoughts and opinions on events and characters that appear throughout Life Is Strange. All text presented is written as presented in the in-game journal and likely contain alternate entries depending on the choices of the player.
List of Journal Entries
Pre-Game Events
Alternate Timeline Entries
Character Entries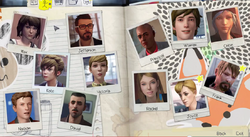 Character entries in Max's Journal are brief overviews of key characters introduced throughout Life Is Strange. Max will write a short entry on each character after meeting them. New entries are marked with stars in the upper left corner of the photograph accompanying their biography.
"Chrysalis"
"Out of Time"
References
Ad blocker interference detected!
Wikia is a free-to-use site that makes money from advertising. We have a modified experience for viewers using ad blockers

Wikia is not accessible if you've made further modifications. Remove the custom ad blocker rule(s) and the page will load as expected.