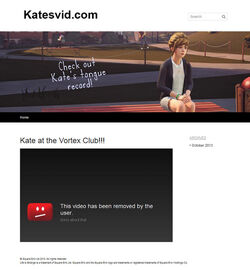 "Check out Kate's tongue record!!!"
—Banner description[1]
Katesvid.com is a registered website under Square Enix Ltd used to promote the second episode of Life Is Strange, "Out of Time".
History
When Kate Marsh attended a Vortex Club party, she became intoxicated after drinking and lost consciousness. Following the party, a video of her actions while under intoxication was uploaded onto YouTube and posted on a blog with a single post archived.[1]
The video eventually managed to circulate around all of Blackwell Academy and Kate Marsh began to experience harassment from her student peers. According to various viewers of the video, Kate is kissing and "touching" multiple guys. At least two Vortex Club members, Victoria Chase and Taylor Christensen attempted to spread the video further by providing the link to the blog in the girls bathroom of the Prescott Dormitory.[1]
Blackwell Academy faculty members Mark Jefferson and David Madsen forward the link to the video to Principal Ray Wells. During the meeting in the office after the incident with Kate Marsh on the rooftop of the girls dormitory, both Jefferson and Madsen state that they either forwarded links to the video or sent links to Principal Wells.[1]
Trivia
An actual video of what happened in at the Vortex Club party was not produced or uploaded to YouTube or any other external website. The website is merely representative of narrative events in "Out of Time".
Some fans speculate that the website was meant to make players feel complicit in the harassment of Kate Marsh, given that they looked up the video in the same manner as the students of Blackwell.
Gallery
Screenshots
References
Ad blocker interference detected!
Wikia is a free-to-use site that makes money from advertising. We have a modified experience for viewers using ad blockers

Wikia is not accessible if you've made further modifications. Remove the custom ad blocker rule(s) and the page will load as expected.